Di Bawa Version Bahasa Indonesia! / Below Version in English!
Eins muss ich sagen: Meine Bahasa Indonesia Kenntnis ist gestiegen und es fällt mir deutlich leichter Gespräche anzufangen! Während meiner Reisen habe ich nämlich mit jedem es so gut wie möglich versucht zu sprechen und die meisten gegenüber mir waren überrascht, wie gut ich es schon sprechen konnte!
Das stärkt nochmal die Bindung mit allen, worüber ich mich sehr freue!!
Ich muss gestehen, dass meine Rückkehr ziemlich holprig verlaufen ist. Ich wurde krank, habe mich unglaublich ausgelaugt von all den Reise gefühlt und psychisch haben auch nochmal Prozesse mit Flashbacks von Erinnerungen aus meiner Teenager Zeit und alten Emotionen stattgefunden. Also Verwirrung pur.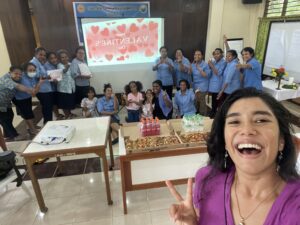 Aber mit ganz viel Liebe und Verständnis gegenüber mir selbst habe ich es geschafft mich wieder aufzurappeln. ❤️
Am darauffolgenden Samstag habe ich mich mit meinem besten Freund, der auch kürzlich Geburtstag hatte und seinem Freund getroffen und wir sind zu einem der paradiesischsten Strände überhaupt gefahren!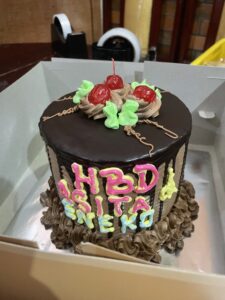 Dort haben wir mit Kuchen, Kerzen, Balloons und Essen den Tag unglaublich schön nachgefeiert.
Ich hatte das Gefühl, wieder ein Stückchen zu mir selbst gefunden zu haben. Es hat mich unglaublich erfrischt an diesem abgelegenen paradiesischen Strand ohne jeglichen anderen Energien zu Sein. 🧘🏻‍♀️
Bis jetzt haben auch einige Neuigkeiten oder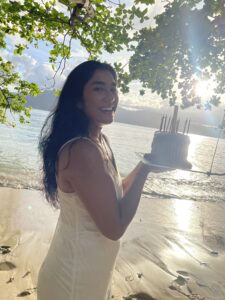 Veränderungen stattgefunden:
Ich bin im Gym angemeldet und kann (endlich!) laufen (auf Papua ist es viel zu heiß für mich um meine Runden zu drehen) wohoo!! und habe ein neues Training angefangen + übe meine eigenen Yoga Flows ein.
Im English Unterricht fühle ich mich viel wohler, da mein Bahasa stärker geworden ist.
Ich lasse Themen, die mir bei der Selbstbewusstseinstärkung geholfen haben im Englisch Unterricht mit einfließen.
Ehrlicherweise ist es ein Englisch x Yoga

 

x Confidence building Kurs geworden und DAS gibt mir so viel Kraft!
Ab nun gebe ich freitags Yoga Klassen für meine Kolleginnen und freue mich ihre Gesichter zu erblicken, nachdem sie

 

sich vollständig entspannen!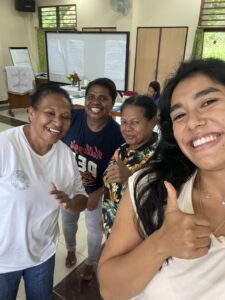 Tatsächlich habe ich auch neue Freundschaften geschlossen!
Rani habe ich im Gym kennengelernt und ihre Freundin Ahrlin und sie schenken mir unglaublich viel Support, Liebe und Kraft.
Mir ist bewusst geworden, wie wichtig ein Support System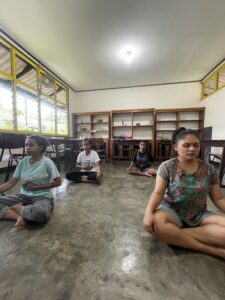 ist, um seine Ziele zu manifestieren.
Gemeinsam mit Rani war ich eines Samstag Abends im ESGE – Park. Was ich dort gesehen habe hat mich umgehauen!
Jugendliche allen Alters in Freundesgruppen an Tischen sitzend, unterhaltend, rund um sind Cafes, Snackbars und Imbisse platziert und vorne die Bühne mit Programm.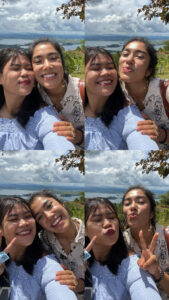 Das beste ist, dass lokale Künstler, wie Fotografen, Videografen, Musiker, Tänzer, Designer, Maler und und und zusammenkommen und ihr Wissen anhand von Workshops (zu dem Zeitpunkt gab es einen Zeichnen – Workshop und einen Video – Workshop) oder ihre Ergebnisse vorstellen und oder verkaufen!
Ich war begeistert!!! So viele junge Leute, die ihrer Leidenschaft nachgehen und diese mit der Community an einem Samstag Abend bei Iced Coffee und Snacks teilen??!
Entschuldigung, kann das bitte jemand in Hamburg einführen?
Kein Wunder, dass ich manchmal die Schnauze voll hatte von der Schanze, weil ich persönlich genug hatte von Bier, Zigaretten und viel zu engen Straßen ohne Sinn. Nein, quatsch, ich Liebs trotzdem.
Aber bitte, wie schön wäre das, wenn wir so etwas in deutschen Großstädten einführen?
Unsere Herzen öffnen und zeigen was uns wirklich tief innen bewegt?
Ich hatte auch eine unglaubliche rührende Unterhaltung mit einem jungen Künstler, der Kunstlehrer an der High-School hier ist, tanzt und gemeinsam mit seinen Freunden richtig nice Papua – T-Shirts kreiert.
Die Themen fingen an mit seinem Projekt über das traditionelle Instrument 'Tifa', welches auf der benachbarten Insel Biak gespielt wird, Frauenrechte und hörten gar nicht mehr auf, da wir auch viel über die Folgen der Abholzung des Sagu Baumes sprachen.
Der Sagu Baum wächst nur hier auf Papua (wahrscheinlich auch auf Papua-Neuguinea) woraus das beliebte und typisch papuanische Gericht Papeda hergestellt wird.
Mehr dazu findet ihr in meinem Instagram Post!!
Ich habe nämlich ein neues Projekt in meinem Kopf mit dem Ziel inspirierende Persönlichkeiten, die ich kennenlerne zu interviewen und über ihre Geschichte und was sie bewegt zu schreiben!!
Yes, bin etwas aufgeregt, aber ich glaube das wird super!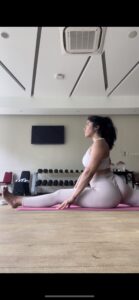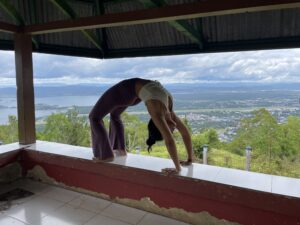 Das schönste an allem ist, dass die Mädels im Asrama, meine Kolleginnen und meine Freunde hier auf Papua vollstes Verständnis und Liebe mir gegenüber zeigen. Auch wenn wir aus unterschiedlichen Orten aus der Welt kommen und bestimmte Eigenschaften nicht unterschiedlicher sein könnten, habe ich das Gefühl dass mein Herz hier stets wohl behütet und bestens aufgehoben ist. Danke Papua ☀️
Alles wird wieder gut und nicht nur besser sondern episch! 🥳☀️🤍
Meine Reisen im Dezember und Januar waren es aufjedenfall und ich kann es kaum abwarten noch mehr wunderschöne Momente in Ozeanien erleben zu dürfen. ♥️
Mehr Berichte, auch über meine Zeit auf Java folgen!!
I Love you Indonesia!
XOX Eure Asi
PS: Bei Fragen, Inspirationen oder Dinge, die ihr erfahren möchtet: Schreibt's mir gerne unter die Kommentare!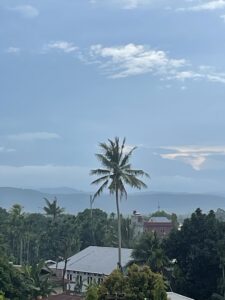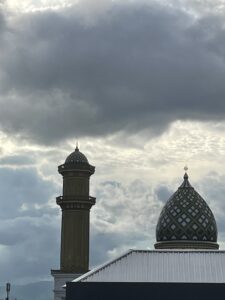 ---
Bahasa Indonesia Version: (with DeepL Translator) ♥️
Satu hal yang harus saya katakan adalah bahwa pengetahuan Bahasa Indonesia saya telah meningkat dan saya merasa lebih mudah untuk memulai percakapan! Selama perjalanan saya, saya mencoba untuk berbicara sebaik mungkin dengan semua orang dan sebagian besar orang di seberang saya terkejut melihat betapa saya sudah bisa berbicara bahasa Indonesia dengan baik!
Hal ini sekali lagi memperkuat ikatan dengan semua orang, dan saya sangat senang!!!
Saya harus mengakui bahwa kepulangan saya cukup bergelombang. Saya jatuh sakit, merasa sangat terkuras dari semua perjalanan dan secara psikologis juga ada proses lagi dengan kilas balik kenangan dari masa remaja dan emosi lama saya. Benar-benar kebingungan.
Tapi dengan banyak cinta dan pengertian terhadap diri saya sendiri, saya berhasil bangkit kembali. ❤️
Hari Sabtu berikutnya saya bertemu dengan sahabat saya, yang juga baru saja berulang tahun, dan temannya dan kami pergi ke salah satu pantai yang paling indah yang pernah ada!
Di sana kami merayakan hari itu dengan kue, lilin, balon, dan makanan dengan cara yang sangat indah.
Saya merasa seperti menemukan diri saya kembali. Sungguh sangat menyegarkan berada di pantai surga yang terpencil ini tanpa energi lain. 🧘🏻‍♀️
Sejauh ini, beberapa berita atau perubahan juga telah terjadi:
Saya sudah terdaftar di Gym dan bisa (akhirnya!) berlari (di Papua terlalu panas bagi saya untuk melakukan putaran) wohoo!! dan memulai latihan baru + mempraktekkan aliran yoga saya sendiri.
Saya merasa jauh lebih nyaman di kelas bahasa Inggris karena bahasa Inggris saya menjadi lebih kuat.
Saya memasukkan tema-tema yang telah membantu saya dengan kepercayaan diri di kelas bahasa Inggris.
Sejujurnya, ini telah menjadi kelas Bahasa Inggris x Yoga x Membangun kepercayaan diri dan ITU memberi saya begitu banyak kekuatan!
Mulai sekarang, saya mengajar kelas yoga untuk rekan-rekan saya pada hari Jumat dan senang melihat wajah mereka setelah mereka benar-benar rileks!
Bahkan, saya juga mendapatkan teman baru!
Saya bertemu Rani di Gym dan temannya Ahrlin dan mereka memberi saya banyak sekali dukungan, cinta dan kekuatan.
Saya menyadari betapa pentingnya sistem pendukung untuk mewujudkan tujuan seseorang.
Bersama Rani, saya pergi ke taman ESGE pada suatu Sabtu malam. Apa yang saya lihat di sana membuat saya takjub!
Anak-anak muda dari segala usia duduk di meja dalam kelompok-kelompok teman, mengobrol, dengan kafe, bar makanan ringan dan makanan ringan di sekitar mereka dan panggung di depan dengan sebuah program.
Hal terbaiknya adalah para seniman lokal seperti fotografer, videografer, musisi, penari, desainer, pelukis, dan sebagainya berkumpul dan berbagi pengetahuan melalui lokakarya (saat itu ada lokakarya menggambar dan lokakarya video) atau mempresentasikan dan menjual hasil karya mereka!
Saya sangat senang!!! Begitu banyak anak muda yang mengejar passion mereka dan membagikannya kepada masyarakat di Sabtu malam dengan es kopi dan makanan ringan…!
Permisi, bisakah seseorang memperkenalkan hal ini di Hamburg?
Tidak heran saya terkadang merasa muak dengan Schanze, karena saya pribadi sudah muak dengan bir, rokok, dan jalan-jalan yang terlalu sempit tanpa arti. Tidak, omong kosong, saya masih menyukainya.
Tapi tolong, alangkah baiknya jika kita memperkenalkan sesuatu seperti itu di kota-kota besar Jerman?
Buka hati kita dan tunjukkan apa yang benar-benar menggerakkan kita jauh di dalam?
Saya juga berbincang-bincang dengan seorang seniman muda yang menjadi guru seni di sekolah menengah atas di sini, yang menari dan membuat kaos Papua yang sangat bagus bersama teman-temannya.
Topiknya dimulai dari proyeknya tentang alat musik tradisional 'Tifa', yang dimainkan di pulau tetangga, Biak, hak-hak perempuan, dan tidak pernah berhenti, karena kami juga berbicara banyak tentang konsekuensi dari penebangan pohon Sagu.
Pohon Sagu hanya tumbuh di Papua (mungkin juga di Papua Nugini) dan digunakan untuk membuat makanan khas Papua, Papeda.
Cari tahu lebih lanjut di postingan Instagram saya!!!
Karena saya memiliki proyek baru di kepala saya dengan tujuan untuk mewawancarai tokoh-tokoh inspiratif yang saya temui dan menulis tentang kisah mereka dan apa yang menggerakkan mereka !!!!
Ya, saya sedikit gugup tapi saya rasa ini akan menjadi sesuatu yang luar biasa!
Bagian terbaik dari semua itu adalah para gadis di Asrama, rekan-rekan kerja dan teman-teman saya di Papua menunjukkan pengertian dan cinta yang penuh terhadap saya. Meskipun kami berasal dari tempat yang berbeda di dunia dan karakteristik tertentu tidak bisa lebih berbeda, saya merasa bahwa hati saya selalu terlindungi dengan baik dan berada di tangan yang tepat di sini. Terima kasih Papua ☀️
Semua akan baik kembali dan tidak hanya lebih baik tetapi juga luar biasa! 🥳☀️🤍
Perjalanan saya di bulan Desember dan Januari sangat berkesan dan saya tidak sabar untuk merasakan lebih banyak lagi momen-momen indah di Oseania. ♥️
Laporan lainnya, juga tentang waktu saya di Jawa menyusul!!!
Aku cinta kamu Indonesia!
XOX Your Asi
PS: Jika Anda memiliki pertanyaan, inspirasi atau hal-hal yang ingin Anda ketahui: Jangan ragu untuk meninggalkan pesan di kolom komentar!
---
English Version: with DeepL Translator ♥️
One thing I have to say: My Bahasa Indonesia knowledge has increased and it is much easier for me to start conversations! During my travels I tried to speak it as good as possible with everyone and most of the people opposite me were surprised how well I could speak it already!
This again strengthens the bond with everyone, which I am very happy about!!!
I have to admit that my return has been pretty bumpy. I got sick, felt incredibly drained from all the travel and psychologically there have also been processes again with flashbacks of memories from my teenage years and old emotions. So pure confusion.
But with a lot of love and understanding towards myself I managed to get back on my feet. ❤️
The following Saturday I met up with my best friend, who also recently had a birthday, and his friend and we went to one of the most paradise beaches ever!
There we followed up the day with cake, candles, balloons and food in an incredibly beautiful way.
I felt like I had found a bit of myself again. It was incredibly refreshing to be on this secluded paradise beach without any other energies. 🧘🏻‍♀️
So far, some news or changes have also taken place:
– I'm signed up at the Gym and can (finally!) run (on Papua it's way too hot for me to do my laps) wohoo!! and started a new workout + practice my own yoga flows.
– I feel much more comfortable in English class as my Bahasa has gotten stronger.
– I am incorporating themes that have helped me with confidence in English class.
– Honestly, it has become an English x Yoga x Confidence building class and THAT gives me so much strength!
– As of now, I teach yoga classes to my colleagues on Fridays and enjoy seeing their faces after they fully relax!
In fact, I have also made new friends!
I met Rani at the Gym and her friend Ahrlin and they give me an incredible amount of support, love and strength.
I realized how important a support system is to manifest one's goals.
Together with Rani I was one Saturday evening in the ESGE – Park. What I saw there blew me away!
Young people of all ages in groups of friends sitting at tables, talking, around are placed cafes, snack bars and snack bars and in front the stage with program.
The best thing is that local artists, such as photographers, videographers, musicians, dancers, designers, painters and and come together and share their knowledge through workshops (at the time there was a drawing – workshop and a video – workshop) or present their results and or sell!
I was thrilled!!! So many young people pursuing their passion and sharing it with the community on a Saturday night over Iced Coffee and snacks?!!!
Sorry, can someone please introduce this to Hamburg?
No wonder I sometimes got fed up with the Schanze, because I personally had enough of beer, cigarettes and way too narrow streets without sense. No, nonsense, I still love it.
But please, how nice would that be if we introduce something like that in big German cities?
Open our hearts and show what really moves us deep inside?
I also had an incredible touching conversation with a young artist who is an art teacher at the high school here, dances and creates together with his friends really nice Papua – T-shirts.
The topics started with his project about the traditional instrument 'Tifa', which is played on the neighboring island of Biak, women's rights and never stopped, as we also talked a lot about the consequences of the deforestation of the Sagu tree.
The Sagu tree grows only here on Papua (probably also on Papua New Guinea) from which the popular and typical Papuan dish Papeda is made.
For more, check out my Instagram post!!!
You see, I have a new project in my head with the goal of interviewing inspiring personalities I meet and writing about their story and what moves them!!!
Yes, am a little excited but I think this is going to be awesome!
The best part of it all is that the girls at Asrama, my colleagues and my friends here on Papua show complete understanding and love towards me. Even though we come from different places in the world and certain characteristics could not be more different, I have the feeling that my heart is always well protected and in good hands here. Thank you Papua ☀️
All will be well again and not just better but epic! 🥳☀️🤍
My travels in December and January were epic and I can not wait to experience more wonderful moments in Oceania. ♥️
More reports to follow, also about my time on Java!!!
I Love you Indonesia!
XOX Your Asi
PS: If you have any questions, inspiration or things you want to know: Feel free to leave a message in the comments!